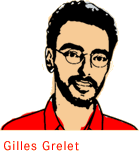 Born in Nantes, 1971. Single, no children (nor car, licence, nor mobile).
Doctor in Philosophy (University of Paris-X, 2002).
Since 2005, director of the series « Nous, les sans-philosophie » published by L'Harmattan (Paris), in collaboration with François Laruelle.
Between 1998 and 2005, responsible for numerous seminars at the University of Paris-VIII, Telecom Paris-Tech and at the Collège international de philosophie (Paris).
Founder of several action plans or militant organisations of theory. So far, no luck.
Thirty or so publications, in France and abroad: books, articles, films, papers. Some caused minor shockwaves.
After working for eleven years in boarding schools (of which six were in a violent technical secondary school), since 2008, he has been in charge of the library in a preparatory school for the Grandes Écoles (post-baccalaureate level).
Highly involved with Les Glénans in the 90s. Since 2007, in the habit of solitary sailing for several months each year.